Montréal, Canada, January 22, 2018 — Introspect Technology, maker of innovative products that address the entire multi-Gbps test and measurement instrument experience, today announced they are exhibiting at DesignCon 2018 at the Santa Clara Convention Center, CA, from January 30th to February 1st 2018.
Having previously been awarded DesignCon's "Best in Design & Test" for the the industry's first 4-Lane C-PHY analyzer and error detector – the SV3C CPRX, Introspect Technology is ready for another strong presence in 2018, as they introduce a new ultra-compact SerDes tester: the SV5C. More details about the new model will be made available in a separate press release days before the event, as well as onsite at DesignCon.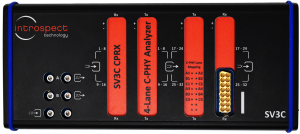 Introspect's products usher in a new era of world-class equipment availability and ease of use in the high-speed digital product development market place. Attendees of DesignCon, the world's premier conference for high-speed chip and board design, will experience these tools first hand at booth #323.
The field team from Introspect will be demonstrating scenarios from real-world development and validation procedures live at their booth, most notably:
SV1C: Capable of validating a wide range of interfaces from nascent low-Gbps consumer interfaces to more advanced high-speed communications links, this demo setup will provide an example of a SerDes transmitter and receiver test for PCI Express validation and production. The Demo will also leverage the Introspect ESP development environment for automated testing with built-on class components, running on a commodity laptop.
SV3C: Featuring the Industry-first MIPI C-PHY and D-PHY receiver and transmitter testing, the SV3C-DPRX will be leveraged to demonstrate sensor and camera applications for the Automotive and Mobile industries.
The SV5C will make its debut and be made available by our demo staff.
In addition, several models from Introspect Technology's line of Personalized SerDes testers and Direct-Attach SerDes Transceiver Endpoints will be on display.
About DesignCon
DesignCon is the world's premier conference for chip, board and systems design engineers in the high-speed communications and semiconductor communities. DesignCon, created by engineers for engineers, takes place annually in Silicon Valley and remains the largest gathering of chip, board and systems designers in the country. This three-day technical conference and expo combines technical paper sessions, tutorials, industry panels, product demos and exhibits from the industry's leading experts and solutions providers. More information is available at: designcon.com. DesignCon is organized by UBM plc. UBM is the largest pure-play B2B Events organizer in the world. Our 3,750+ people, based in more than 20 countries, serve more than 50 different sectors. Our deep knowledge and passion for these sectors allow us to create valuable experiences which enable our customers to succeed. Please visit www.ubm.com for the latest news and information about UBM.
About Introspect Technology
Introspect Technology offers the most extensible measurement and optimization tools for high-speed digital product engineering teams worldwide. Our portable, software-defined instruments deliver unprecedented productivity enhancement throughout all stages of multi-GHz product development: from bring-up characterization, to system-level integration and optimization. Our mission is to enhance our customers' competitiveness, product quality, and time-to-market.
Introspect Technology pioneered the ultra-compact test instrument form factor with the introduction of the SVxC product line. This cost-effective, high-performance multi-channel tester, available in an array of Tx/Rx configurations, has evolved to become the standard for mobile and high-speed development and validation. It provides bench equipment accuracy and precision, ATE throughput capabilities, and supports a software interface – Introspect ESP – to allow for EDA-style scripting and test automation.
Essentially, everything you need to develop and verify your high-speed digital algorithms is contained in these ultra-portable test instruments. More information is available at www.introspect.ca/personalized-serdes-testers/