Montréal, Canada, October 30th, 2017 — Introspect Technology, maker of innovative products that address the entire multi-Gbps test and measurement instrument experience, has announced today that its industry-leading portable SV3C MIPI D-PHY generator now supports a maximum data rate of 6.5 Gbps per lane. This signaling speed, which exceeds the MIPI Alliance D-PHY version 2.1 specification requirement, provides leading developers with the early ability to validate and characterize next-generation designs targeting smart phone applications as well as imaging, video, automotive, and IoT applications requiring high bandwidth, optimized power dissipation, and a simple protocol stack. The upgrade to the SV3C Generator is available at the time of this announcement either directly from Introspect Technology or one of its approved worldwide distributors.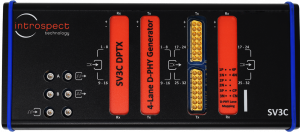 "With its ultra-compact form factor and abundance of features, the SV3C DPTX D-PHY Generator has rapidly become one of the most widely adopted MIPI test solutions in the industry," said Dr. Mohamed Hafed, Introspect Technology CEO. "As a MIPI Alliance Contributor Member, Introspect constantly works with the alliance members to further enhance the MIPI specifications roadmap, and this latest upgrade offering is an exemplary illustration of our efforts. Our long-view approach makes us uniquely poised to offer solutions that allow our customers to stay ahead of the curve with respect to ongoing advancements in mobile and IoT technologies" he continued.
The SV3C-DPTX MIPI D-PHY Generator is an ultra-portable, high-performance instrument that enables exercising and validating MIPI D-PHY receiver ports. A highly data-rate agile unit that is capable of generating any traffic, the D-PHY generator includes analog parameter controls for garnering deep insight into parallel/simultaneous receiver sensitivity performance and skew/jitter tolerance.
The D-PHY Generator is operated using the award winning Introspect ESP Software, which features a comprehensive Python-based scripting environment with an intuitive component-based design. This environment allows for automating receiver tests such as voltage sensitivity or dynamic clock-to-data setup and hold times. The environment also includes sophisticated pattern generation tools that enable the generation of complete DSI or CSI video streams, whether on single or multiple virtual channels, thus enabling users to adopt a system-oriented approach to receiver characterization.
About Introspect Technology
Introspect Technology offers the most extensible measurement and optimization tools for high-speed digital product engineering teams worldwide. Our portable, software-defined instruments deliver unprecedented productivity enhancement throughout all stages of multi-GHz product development: from bring-up characterization to system-level integration and optimization. Our mission is to enhance our customers' competitiveness, product quality, and time-to-market.