On Thursday October 27, 2022, the Introspect Technology team graciously attended the most highly regarded annual event in the electronics industry – the 2022 Electronics Industry Awards. Held in the historic Grand Connaught Rooms in one of London's most vibrant districts, the awards ceremony celebrates products, services, teams, and individuals who stand out in the electronics components industry. 
Being nominated and invited to attend this awards ceremony is certainly noteworthy. However, earning the award in the Excellence in Innovation category is even more significant for us because this category is not only limited to the test and measurement sector that we directly participate in. Rather, it covers the entire electronics sector (semiconductors, computer aided design, manufacturing, and even distribution). 
What the Excellence in Innovation Award Means to Us
Just like an Olympic sprinter trains for years and years to perform a below ten second sprint, Introspect Technology has put in a whole decade's worth of work before reaching this significant milestone. Even though the awards ceremony and receiving this special recognition happens in what feels like the blink of an eye, we could not have achieved this without the dedication and innovative mindset of each and every member of the Introspect team.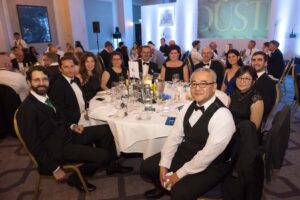 In the words of Dr. Hafed, receiving such significant recognition "means that the collective of Introspect is performing at the highest possible level. It means that every single person is a winner and that every single one is performing at a level that makes our collective performance much larger than the sum of our individual parts." 
We also could not have reached this milestone without our customers and partners from across the globe who voted for Introspect Technology at the finalist stage of the awards. The votes of our peers were an integral part of the judging process for this competition. 
Our Solutions Stem from Innovation
Being a test and measurement company, innovation is a necessary component of our existence at Introspect Technology. Simply stated, our test and measurement equipment is used by industry pioneers to develop next generation technology; yet we have to design this equipment using current-day technology. That is, we use today's technology to enable tomorrow's technology, and this is by no means possible without invention and creativity. Unless every aspect of our operation is replete with excellence in innovation, it would not be possible for our company to succeed.
Innovation Is Programmed in the Team Structure

Every person at Introspect Technology is encouraged and trained to innovate. We seek engineers who are willing to explore, experiment, and learn about the risk/reward tradeoffs associated with innovation. The result is that our team members are individually recognized internationally for their work. In 2014, our CEO was a finalist for the prestigious ACE Executive of the Year Award, where he was placed at the same level as industry pioneers such as Lisa Su of AMD. In 2015, a brilliant Introspect engineer by the name of Philippe Lancheres was selected as a finalist for the prestigious DesignCon Engineer of the Year Award. He was recognized for spearheading the development of our C-PHY product; a task that appeared seemingly insurmountable at the time of its creation. Similarly, in 2022, Erin Holley was one of only 50 recipients of the Changemakers Award from The Globe and Mail. At only 28 years old, she leads our entire memory interface test solutions portfolio, and her product line is the second fastest growing line for the company.
These individual examples are only spotlights that give a glimpse of the culture at Introspect Technology. It is an environment of high performance, where engineers and technicians are buzzing with focus, ideas, and solutions. Instilling excellence in innovation truly begins with the mindset of each team member. This award is a testament to our team's ability to execute test and measurement solutions that enable the next generation of electronics. "Most importantly, this award means that we are aligned as a team and that our energies are all focused in the same direction," adds Dr. Hafed, upon reflecting on the Excellence in Innovation award. 
Join the Introspect Team
If being part of an award-winning and collaborative team resonates with you, we want to hear from you! Whether for a role in engineering, electronics testing, or technical writing, send us your resume at careers@introspect.ca.