Montreal, Canada, November 3, 2022 – On Thursday, October 27, 2022, Introspect Technology, leading manufacturer of test and measurement tools for high-speed applications, celebrated a significant accolade at the Grand Connaught Rooms in London, receiving the Excellence in Innovation Award at the Electronics Industry Awards 2022. Presented before an audience of esteemed industry professionals, this prestigious award recognizes a company that has demonstrated outstanding innovation and one that has made a significant impact on the market. Introspect Technology has won the award based on its category-creating products, its proven technology, and the constantly innovating attitude of its team.
It is always special to win a corporate award because it means that the collective of Introspect is performing at the highest possible level," said Dr. Mohamed Hafed, Chief Executive Officer of Introspect Technology. "It means that every single person in the company is a winner and that every single team member is performing at a level that makes our collective performance much larger than the sum of our individual parts.
Ever since Introspect Technology was founded, its products have stood out for innovation. For example, less than a year into Introspect's existence, in February 2013, the SV1C Personalized SerDes Tester was introduced, and this created a new category of test and measurement products that have been pioneering for 10 consecutive years. The product replaced racks of conventional equipment and transformed them into a handheld form-factor that has since allowed hardware engineers, firmware engineers, and even software engineers to have access to SerDes Technology.
With year after year of innovative product introductions such as the 40-lane physical layer tester in a handheld form-factor, the different MIPI D-PHY and C-PHY generators, the world's first two-port MIPI generator, the world's first MIPI DSI-2 protocol analyzer, and Introspect's JEDEC DDR5, LPDDR5, and GDDR solutions, the Introspect team continues to find incredible ways of miniaturizing equipment, creating new features in them, and delighting customers with their use. The team is keenly interested in solving the world's most complex measurement problems where they routinely think about phenomena spanning a few femtoseconds (1/1 quadrillionth of a second) of timescales and trillions of bytes of data. 
Being recognized for Excellence in Innovation validates Introspect's collective efforts, and motivates the highly-driven team to keep pushing the boundaries of what they already know.
For the full list of winners from the Electronics Industry Awards ceremony, click here.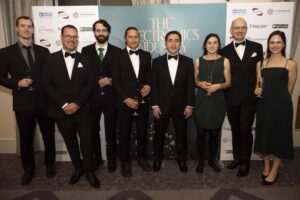 About the Electronics Industry Awards
The Electronics Industry Awards, organized by Components in Electronics (CIE) publisher Datateam Business Media, celebrates the very best professionals, products, projects and companies from across the electronics sector. Now in its fifth year, the awards scheme quickly established itself as a key event on the industry calendar and an Electronics Industry Award trophy now represents a truly unique stamp of approval – separating the winners from their competitors and opening up doors for new business opportunities. For more information on the Electronics Industry Awards, click here. 
About Introspect Technology
Founded in 2012, Introspect Technology designs and manufactures innovative test and measurement equipment for high-speed digital applications. Whether it is the next augmented reality headset or the level-4 autonomy engine in a mobility solution, our award-winning tools are used to develop, test, and manufacture next-generation products. In short, we help the leading global technology companies make tomorrow's technology today's possibility.