The person buying their next car or undergoing their next medical procedure likely isn't concerned with everything it took to make the innovative equipment they are about to use. However, there are countless hours spent on research and development of such impressive machines.
Just like many other critical industries that fly under the radar of the average consumer, the test and measurement industry is a crucial component of everyday electronics. Without it, how could manufacturers ensure that billions of smartphones of the same design function in the same way? How would they know that a product is ready for the market? In a wide variety of industries, there are standards established that must be met in order to qualify a protocol, design or device as compliant. This is where Introspect Technology comes in. Introspect contributes to the characterization and validation of designs in medical equipment, robotics, automotive, mobile computing and much more by designing the solutions that allow for these types of verifications.
From the purpose of test instruments to how we even create such tools, keep reading as we dive into some of the most frequently asked questions about test and measurement.
Why is testing needed in the first place?
In electronics, there are a wide range of standards, protocols and specifications that contribute to making the most commonly-used products. The purpose of testing new designs is to determine within what range a product being tested can maintain its functionality in-line with those specific standards. This can be seen as a type of functional stress testing. 
This type of stress test means pushing the limits of a device or equipment to identify what makes the device "break". Finding out why an error occurs in its product will bring a manufacturer one step closer to resolving that specific issue. This idea can be compared to a medical doctor treating visible symptoms, or taking it a step further to uncover the reason why a patient is unwell.
It is one thing to get a glance at signal activity, but obtaining an understanding of the functional activity is even more valuable. The main ways of doing this are through either generating new data towards a sink device, or analyzing data from a source device, or even both. Introspect tools provide a complete analysis, a connecting of the dots, where the tools can either analyze or inject errors on all layers. Then, one of the most insightful bits of information that a user gets to see is where an error may propagate throughout their system.
Does the development of test and measurement tools always go as planned? 
Like in many other industries and companies, there are always expectations when developing a new solution. With a world of thought, research, and trial and error that goes into the design of these new tools, Introspect Technology has come across its own set of challenges where reality has sometimes differed from expectations. At all times this requires the team to be adaptable and focused to ensure the creation of tools that meet customers' needs.
At its core, Introspect Technology operates as a research and development team. This means that the organization constantly tests and analyzes its own products to ensure full functionality and improves upon its own capabilities. Not knowing what we don't know means obstacles can occur, but this simply helps us discover brand new and never seen solutions!
Which comes first: the new electronic device or the test instrument?
While there are often generic solutions for a first-pass at testing new products, there is always a need for specialized solutions to match all the complex features and capabilities of emerging technologies.
The same way an automobile manufacturer would test a new engine before it is inserted into the car itself, the components of mobile devices also go through testing in the early design stages, long before the final product is assembled. The challenge is that the time to market in the overall technology sector is constantly being reduced. So, the demand for ready-made solutions is increasing at full velocity. The reality of test and measurement in electronics is that it is a two-way process and the product and the testing tool are generally developed in lockstep with each other.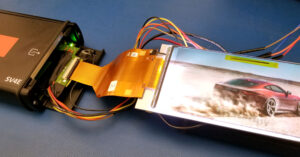 What Introspect Technology specializes in is monitoring industry development, listening to evolving customer needs closely and identifying upcoming test challenges. Introspect works diligently to keep ahead of the game and develops its instruments in lockstep with industry leading companies. It is thanks to pioneering manufacturers like yourselves that Introspect can diligently develop tools concurrently with the needs of the market.
In A Nutshell
You now have insights to our most frequently asked questions and how Introspect tools make a difference in the electronics industry. With shrinking time scales in the technology sector, delivering electronics products requires testing even in the early design phases. Providing affordable, powerful access to these early design phases is a paradigm shift in test engineering, and it opens a whole new market area for electronics testing. Our cutting edge solutions help electronic manufacturers develop the most pristine electronic products on the market. Simply put, our mission is to help the leading global technology companies make tomorrow's technology today's possibility. 
For any inquiries, please send us an email at info@introspect.ca