Montréal, Canada, March 27, 2019 — Introspect Technology, manufacturer of innovative products that address the entire multi-Gbps test and measurement instrument experience, is pleased to announce that the company has been nominated for two Electronics Industry Awards 2019: its Introspect ESP Software is in the running for Engineering Development/Design Tool of the Year, while its SV3C-DPTXCPTX Combo MIPI D-PHY/C-PHY Generator is a candidate for Test, Measurement, Inspection Product of the Year. As a regarded member of our industry, we would like to take this opportunity to ask you to show your support for our nominations and vote for Introspect Technology online here. Votes can be submitted on the Electronics Industry Awards website until Friday, April 19. We also invite you to share our nomination with your colleagues and industry peers and encourage your fellow industry professionals to vote for us.
Why Our Products Are Nominated!
Engineering Development/Design Tool of the Year: Introspect ESP Software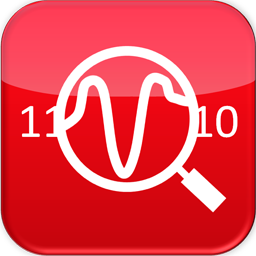 In today's electronics industry, the hardware systems that engineers are designing are becoming increasingly complex — the programmability seems infinite. This means that solutions for development and debug must be capable of synthesizing, analyzing, measuring, and tracking design changes easily. With this in mind, Introspect Technology has built an intelligent back-tracking feature into the Introspect ESP Software called "Show As Test" which tracks all activity from within the IDE even if a project is not saved into the file system. This time-saving feature is extremely useful in debug situations when an engineer is exploring different variables and seeing their effects on a particular design. For example, if a design space consisted of 5 variables, each having 32 settings, then the optimization space occupies >33 million combinations, and this is where the power of tools such as the Introspect ESP Software becomes truly apparent. Not only does it have a profoundly stable software architecture, the Introspect ESP Software saves hours or days of debug traceability with the "Show As Test" feature. With its innovative "Show As Test" feature, the Introspect ESP Software has become a critical tool for accelerating debug and development of complex designs in labs worldwide while simultaneously improving performance of such systems.
Test, Measurement, Inspection Product of the Year: SV3C DPTXCPTX Combo MIPI D-PHY/C-PHY Generator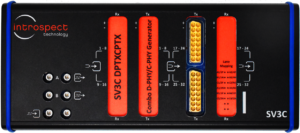 As MIPI® Alliance protocols continue to rapidly evolve, obsolescence risk is a significant factor for many adopters of MIPI specifications — especially when it comes to capital equipment acquisition decisions. However, with the SV3C, companies implementing MIPI interfaces can minimize risk and maximize profits on their investment in capital equipment because the SV3C is completely compatible with all MIPI standards, even ones that are still in development. For example, it supports the D-PHY℠ physical layer, in its versions 1.1, 1.2, 2.0, and 2.1. Similarly, it supports the C-PHY℠ physical layer, in its versions 1.0, 1.1, and 1.2. Finally, it supports the multiple CSI-2℠ and DSI/DSI-2℠ standards as well as new ones such as VESA Display Stream Compression and MIPI Camera Command Set. Additionally, it is capable of operating at up to 6.5 Gbps per lane (26 Gbps across 4 lanes), thus offering very high operating margin for its users. Indeed, developed in lock-step with some of the most advanced CPU, sensor, and display makers in the world, the SV3C contains features that are still not fully released by MIPI Alliance. It is, therefore, with little surprise that the SV3C is now standard fare in any high-speed lab in which MIPI development and characterization is being performed.
Show Your Support: Vote Introspect Technology!
If you think we are deserving of industry recognition for our innovative test and measurement products, please vote for Introspect Technology today — your votes are much appreciated!
About the Electronics Industry Awards
Organized by Datateam Business Media in association with CIE Magazine and supported by Electronics Magazine and the Electronic Components Supply Network, the Electronics Industry Awards 2019 rewards outstanding people, products, and business practices in the electronics sector. This year's winners will be announced at the awards ceremony, taking place on Friday, June 21, 2019 at The Tower Hotel in London.